Real money transfer instructions
If real money transfers are available in your region, you'll be able to send money to another player. To do so, log in to your account and follow these steps:
From our Cashier, select Transfer to Player.
Enter the username of the recipient.
Enter the amount you wish to transfer and add special instructions for Support if needed.
Choose Continue and on the next screen Submit Transfer Request.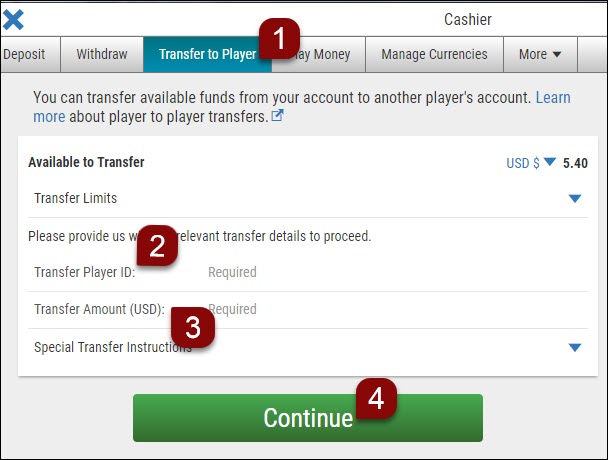 We'll then review your transfer and process it as soon as possible.
Depending on a variety of factors, we may ask for identification documents and other information from you and/or the recipient. This is to comply with our regulatory requirements and to protect the integrity of our transfer feature.
NOTES:
Real money transfers aren't available in some regions. If you don't see this option on your Cashier, this might be your case.
Transfer feature exists to help players fund their accounts so that they can play at our tables.
You're able to transfer funds only from your winnings. For security reasons, players can't transfer funds directly from deposits or other transfers.
All transfers are subject to review before approval.
If you wish to stake other players without playing at the tables yourself, you can use a money transfer service outside of our site.
Feedback
Did this article answer your question?